Request for Proposal (RFP)
| | |
| --- | --- |
| Advertisement | View |
| ADDENDUM | View |
| RFP Document for Selection of Consultant for Conducting Environmental and Social Study / Audit Post Commercial Production Scenario in Thar Coalfield | View |
| Quries and Decisions of Pre-Proposal Bid Meeting | View |
| Cancellation Notice | View |
Addendum
Clarifications on RFP Document
Request for Proposal – Procurement of Audit Firm
Postponment Notice of Public Hearing Regarding SECMC Petition
Two-Thar-Coal-Based-Power-Projects-Approved-News-Item-I
Thar-coal-project-achieves-2bn-financial-close-News-Item-II
centre_vows_to_assist_sindh_in_coal_power_projects
cancellation of_tender_notice
Prime Minister Muhammad Nawaz Sharif and former President Asif Ali Zardari jointly performed ground-breaking of the US 1.6 billion dollar Thar Coal Mining & Power Project of Sindh Engro Coal Mining Company (SECMC)on Friday, 31st January, 2014 at Thar Coalfield Block-II near Islamkot
thar-coal-power-project- sindh-chief-minister-welcomes-SEPCO's-Investment
china-firm-to-set-up-10-coal-fired-power-plants
two-day-conference-on-solution-for-energy-crisis
setting up_600MW_power_plant_Secmc
australia_can_help_sindh_develop_lignite_coal_mining
pso_engro_sign_mou_for_thar_coal_project
sindh-cabinet-decides-to-expedite-progress-on-thar-coal-project
coal_is_the_future_of_pakistan
Situation Vacant
Cancellation of Tender Notice
Sealed Tenders are invited for Supply of Electric Cable for TCEB Office

Prime Minister Muhammad Nawaz Sharif and former President Asif Ali Zardari jointly performed ground-breaking of the US 1.6 billion dollar Thar Coal Mining & Power Project of Sindh Engro Coal Mining Company (SECMC)on Friday, 31st January, 2014 at Thar Coalfield Block-II near Islamkot.

Corrigendum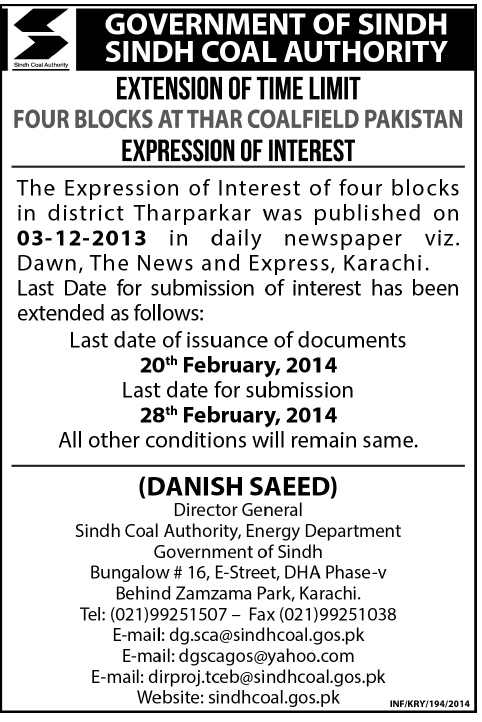 EOI for Thar Coalfield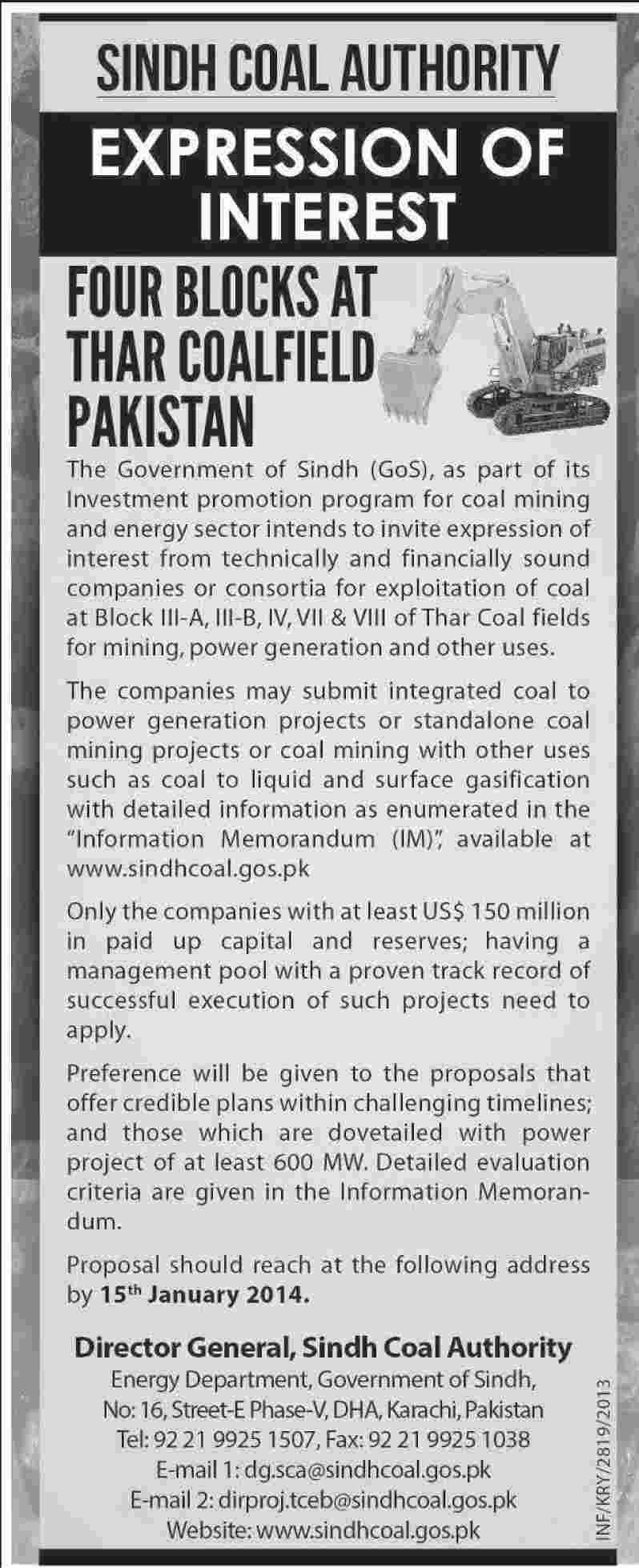 IM for Thar Blocks-III(A&B), IV, VII & VIII (2013)
Thar Coal Power Project- Sindh Chief Minister Welcomes SEPCO's Investment
Power Projects at Keti Bundar
China firm to set up 10 coal-fired power plants
Please review the draft Resettlement Policy Framework for Thar Coalfield and send your feedback/comments (if any) by 1oth October, 2013 through post or email to the Deputy Director (Environment) Sindh Coal Authority, Government of Sindh at 1st Floor, State Life Building No:3, Dr. Ziauddin Ahmed Road (Opp: C.M House) Karachi or through email: tharcoalrpf@gmail.com or by fax at 021-99207534

Coal & Energy Development Department seeks services of a Corporate Lawyer/reputed Law Firm to provide legal advice and corporate, regulatory, advisory services regarding existing shareholders / JV agreement between GoS and the JV Partner in Thar and suggest appropriate changes to incorporate recent decisions of the JV partners in JV agreement. Last date for submission of Bids is 12th July, 2013.
Two-day conference on solution for energy crisis held in Islamabad
Setting up 600MW power plant SECMC, KESC ink MoU
Australia can help Sindh develop lignite coal mining
PSO, Engro sign MoU for Thar Coal Project
Sindh Cabinet decides to expedite progress on Thar Coal project
Coal is the future of Pakistan and Sindh with its huge resources of coal
Thar coal mining and power generation presents ample opportunities for Turkish investors to exploit
Only Thar coal to be used for thermal power: Raja
ADB says has no reservations about Thar coal
Qaim woos CIC to invest in power projects
Sindh CM meets with representatives of Czech coal mining firm